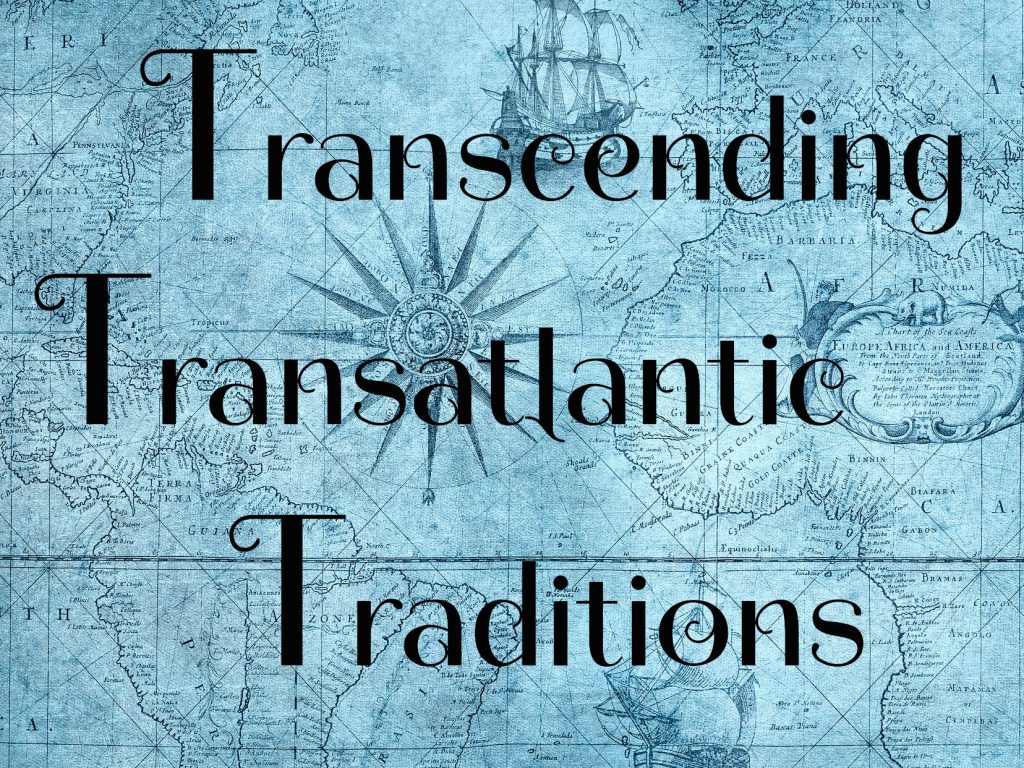 Transcending Transatlantic Traditions is an article series by J. R. Nichols. Click here to read a random post.
I look into my glass,
And view my wasting skin,
And say, "Would God it came to pass
My heart had shrunk as thin!"
For then, I, undistrest
By hearts grown cold to me,
Could lonely wait my endless rest
With equanimity.
But Time, to make me grieve,
Part steals, lets part abide;
And shakes this fragile frame at eve
With throbbings of noontide.
Thomas Hardy (1840–1928), "I Look Into My Glass." Wessex Poems and Other Verses. 1898.
---
Transcending Transatlantic Traditions – Times Tales
I had another amazing 'virtual visit" with Maria Johnson, my author friend from England. She has settled in well after a recent move of houses – she's already got plenty of books on her shelves, and has been spending lots of time under the tree in her new large and lovely "garden" (what Americans would call her "backyard")!
Time factored into our discussion almost straight away. As usual, Maria and I had to juggle schedules and discuss what time of day would work best for our meeting, and I enjoyed hearing her use phrasing such as, "it's just half five now," while Maria seemed to delight in asking me things like how I would talk about it being "a quarter after four."
Our slated chat topic was also regarding time – specifically the nature of it, and how its passage is handled in fiction writing. As Wonderful Readers ourselves, Maria and I agree – properly handling time's passing in a novel is important; how do we know a flashback is a flashback, if not for the mention of time's passing, after all? And, how can one know the age of a character in a given scene, if she does know how much time has passed since the eighteenth birthday party which happened in the previous chapter?
Genre Matters
Maria has a friend who writes contemporary fiction in the epistolary style – meaning, the work is comprised of journal entries, articles, and other "installments" of narrative*. Meanwhile, I am writing a General Fiction futuristic piece with a narrative that travels neatly from one moment to the next, with no real leaps of time for me to reckon for within the work.
I wondered how difficult it might be to select arbitrary dates for something to have happened in a character's life, and I imagine I'd have ended up doing the same as Maria's friend has done – correlating events in my characters' lives to ones of my own with the same emotional "pull" or "consequence." That's right, according to Maria, this author selects which date to put into her novels based on when memorable events in her own life – such as a birth, a wedding, a death, or a divorce finalization – actually happened.

Maria – who writes historical fiction – has an altogether different approach to handling the passage of time in her novel. She has a sort of built in set of parameters to work within when it comes to selecting when events take place – the actual recorded history of events and climate of the region which serves as the setting for her writing. She can't very well claim something like soldiers freezing to death on the battle field if it was more likely the weather was balmy and sunny on that particular day in that particular region.
Undetected, Yet Important
Wonderful Readers such as yourself probably appreciate the writer who can master the art of marking the passage of time within a book. When done right, it is not something a reader would generally notice – except for perhaps in the case of an epistolary tale, as Maria's friend writes. Whatever method is used, the ultimate goal is to have time pass in the narrative as it does in real life – unnoticed until it has left its consequences in its wake for all posterity.
*An excellent example of epistolary writing style would be the classic novel, "Dracula," by Bram Stroker.