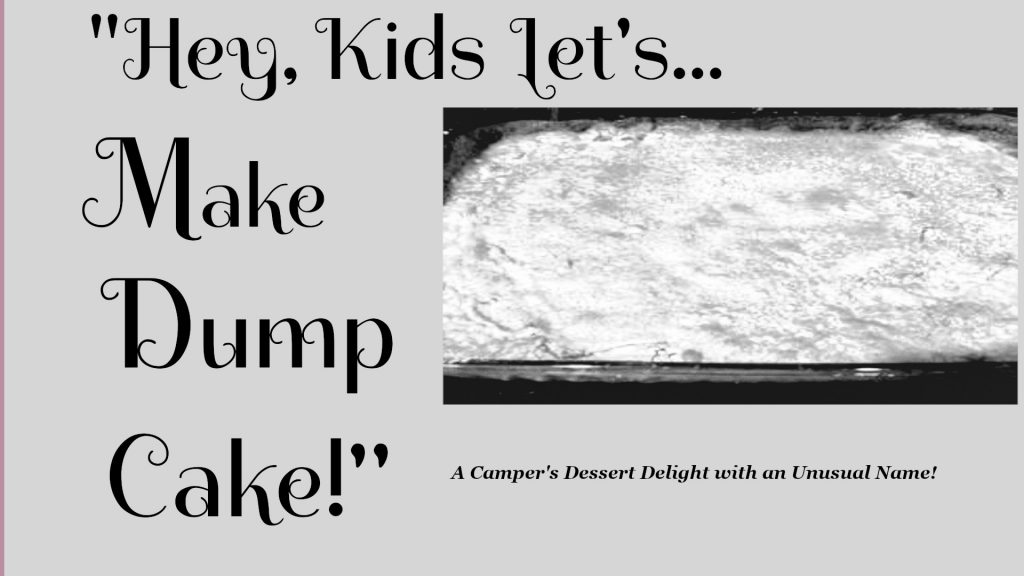 I have a lot of respect for what I call "hard-core foodie" campers – the ones who are serious about their "vittles," always eating well while camping, in spite of what are sometimes quite primitive cooking conditions. These amazing folks go the extra mile – planning and implementing elaborate meals and packing extra coolers filled with must-be-kept-fresh ingredients, just to ensure their family of foodies isn't let down on "walking taco" night*! Most of these folks are so dedicated to quality that they are willing to invest hundreds of hours in learning open-fire dutch oven and cast-iron skillet cooking. In the scouting world, they must know how to cook for a large crowd!

I am blessed to have encountered several examples of such dedication to delectability in my life, including a mother and daughter team – Mary and Edie – who served for a time as my personal authorities on "Dump Cake." With only the slightest provocation, these two resourceful gals could leave me drooling and dizzy recounting the various combinations of cake mix and filling they had taste-tested over the years.

It's called what?
I know, I know, the name is gross; but I promise, after just one bite of the unfortunately named dessert, you'll be hooked, just like I was! Of course, when you are working with youth, the unintentional crassness of the name, "dump cake," is going to cause a bit of a stir, and for some, even increase the dessert's popularity! But, the true reason for the unusual moniker is actually thanks to the cooking method, which is basically to just dump everything into the pan. Sounds easy, right? It is!

How to Make Dump Cake
The beauty of this dish is its versatility; by mixing and matching flavors of cake mix and pie filling, you can come up with almost endless dessert combinations to delight your palate. You can find several variations on the internet, but all will have some basic components in common:* A cake mix – any flavor* A pie filling – any flavor (presumably to compliment the flavor of the cake mix)* Butter – Amounts called for in recipes varies (I use a stick and a half)

As previously mentioned, all dump cake recipes also share the same cooking method – you dump in the pie filling, dump in the cake mix, and dump the melted butter on top.Bake the whole mess and serve hot or cold, with or without ice cream or whipped topping.Easy, cheap, and yummy

Cooking "Dump Cake" with KidsThis is a great recipe for cooking with kids because children could help with so many of the steps including:Opening the package of cake mix (Be sure to practice knife safety!)Opening the pie filling – Learning to use a can opener can help with manual dexterity"Dumping" the ingredients – The beauty of this recipe is, it works even if you just "dump" it into the pan! (A perfect recipe for "little helpers!")

A "Throw Together" To Get You StartedWhy not give Dump Cake a try? I'm not nearly organized enough to put together an actual recipe, but I've jotted down what I typically "throw together" in order to inspire you:1 box Butter Pecan flavor cake mix1 bag caramel baking bits1 can "now with more fruit" apple pie filling1 ½ sticks of Butter, plus additional for pan
Preheat oven to 375. Butter a 9×13 glass pan. Dump in caramel bites. Dump in pie filling. Dump in cake mix. Pour melted butter over all. Reduce oven heat to 350. Bake for 45 minutes to 1 hour.

Enjoy!